A Quality Builder You Can Trust From Breaking Ground to Splashing Around!
For more than 40 years, we have been Central Georgia's source for excellent swimming pools at an affordable price. Our team of highly skilled pool installation experts has the equipment and know-how to provide you with a quick and quality installation to help you splash away your summertime blues.
All of our in-ground pools are custom built to make your dreams of a beautiful backyard oasis come true. We offer several styles when it comes to in-ground pools. We even offer a multitude of add-on options such as diving boards, slides, fountains and more! We'll help you keep your family and friends splashing around all summer!  Learn More.
Not ready to take the in-ground pool plunge?  We have some great above ground alternatives that are economically friendly and will still keep your family cool! We offer several different styles of above ground pools to choose from. We build custom decks and patios for above ground pools as well. Learn More.
Create Your Backyard Oasis
Fiberglass pools manifested from the revolution of the fiberglass boat industry.  This type of pool is molded into one piece and then installed the respective space.  They are made from a mixture of tiny glass threads that are woven into fabric and reinforced by a special resin.   An attractive benefit of a fiberglass pool is that they are able to withstand temperature changes and freeze-thaw to maintain its beauty for a lifetime. The Fiberglass pool manufacturer that we use is Latham Trilogy Pools. This type of pool is available in pretty much any shape and size! 
Vinyl liner pools are backed by poured cement walls. That allows for them to come in endless shapes and sizes. Not to mention we carry several different colors and patterns of vinyl liner as well. Learn More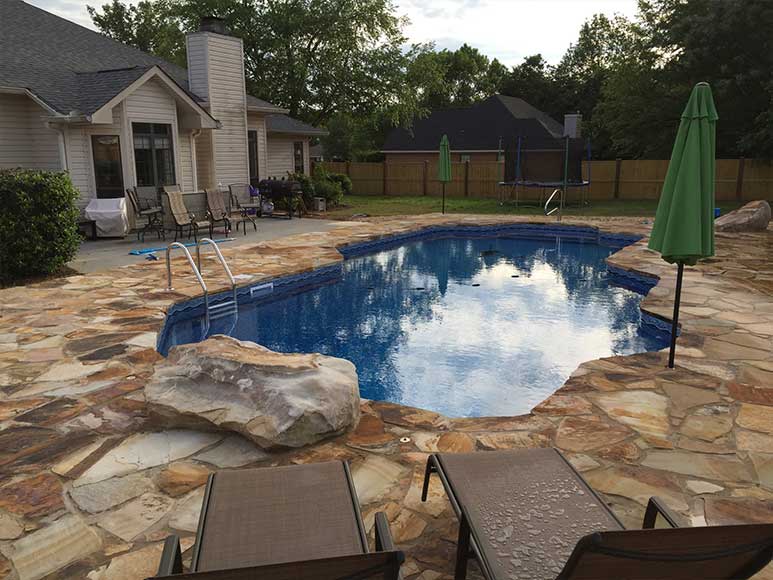 Custom Patios & Pool Decks
Once you have installed your swimming pool, don't stop there! Stone, cool decking, brick, whatever you want–we can do it! We can build the patio of your dreams! Contact us for more information!
Waterfalls, Slides, & More
Looking for splashing good fun or some serenity? We have it covered! We carry an assortment  of add-ons from waterfalls, slides, and more. We are more than willing to help you  find which add on is best for your poolscape!  View More Add-Ons
Sun, Shade & Seating Areas
We can turn your backyard into oasis! From custom tanning ledges to gazebos, we do it all! Call us today to come out and measure!
We understand that redoing your backyard can be a bit nerve wrecking, which is why we provide you with unparalleled customer service. Our team won't leave you in the dark and have you guess what's going on. Our job is to continue working with you every step of the way to give you a full understanding of what is going on at all times.
Testing your water is very important for the overall health of your swimming pool or spa. By testing the water, it can help you determine what is lacking and what product needed to help return your pool or spa back to normal. We believe in this process so much that we offer FREE water testing in our stores! If you are in a bind or totally confused feel free to stop  by and we'll help you!
Sanitizing your pool and/or spa is just as important as anything else.  We offer several different types of sanitizers for pools and spas such as:Baquacil, Chlorine, Low-Chlorine, Ozone, and Salt. For more information on these different types of systems give us a call or drop by the store!